Research & Development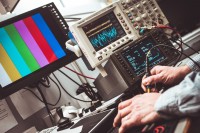 Research & Development
As design consultants, Wilkie Electronics has all the skills to allow your product to become a reality.

Many products are now microprocessor based and our expertise in this field is well recognised. We are fully aware of Electro-Magnetic Compatibility (E.M.C.) issues and can advise on CE marking when required.

It is important in this industry that the area of intellectual property is protected and Wilkie Electronics are happy to work on a non disclosure basis and pass over files so that the customer will hold the intellectual property on their own finished product. With most R & D projects, time is of the essence and Wilkie Electronics have often worked 24/7 to ensure project timelines are adhered to. Wilkie Electronics can take the clients project from idea, to prototype, to launch.

Many manufacturers require test equipment to monitor or test their products at various stages in the manufacturing process. If these products are of a specialised nature there may be no "off the shelf" equipment to do the job. We provide a custom design service for such equipment and can also carry out modifications and repairs to existing equipment.