Iain Wilkie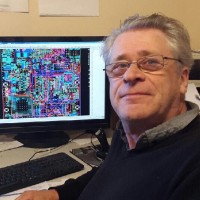 Wilkie Electronics was established in 1994 by Iain Wilkie.
Iain has been involved in Electronic Engineering for over 50 years, starting his career as a technical assistant with General Instrument Microelectronics in Glenrothes in 1969 and then later at Pico Electronics, also in Glenrothes, where he was involved in semiconductor design including the worlds first single chip hand-held calculator.

During his time with Pico Electronics he traveled extensively in the USA working in New York, San Francisco, Los Angeles and Phoenix in the design of Metal Oxide Semiconductor Large Scale Integration (MOSLSI) semiconductor chips which included the Accutrac 4000 track selecting record player manufactured by BSR, and early versions of home automation which subsequently became known as X10.

After 6 years with Pico Electronics, he joined John White & Sons Weighing Machines and then it's sister company Weighing Automation in Auchtermuchty where he designed a product range of electronic weighing equipment and P.L.C. controlled automation systems.  

Then after 19 years he started Wilkie Electronics providing a unique brand of professional electronic design services.