Case Studies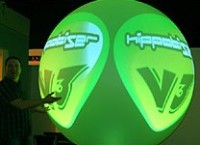 The Puffersphere
Inflation Controller


What is it? Well it's a Spherical TV, Digital Campfire, Video-Globe or Dynamic Bill-ball, you decide what you want the PufferSphere® to be. 
The Pufferfish exclusive spherical display solutions enable you to present dynamic visuals effectively and with unequalled style.The arresting 2 metre or 2.5 metre diameter spherical screen is inflated via a self-contained base unit, whilst the internal projection system maps your choice of digital content onto its surface.

A major concern for Pufferfish Displays was how to control the air pressure inside the sphere. Air is supplied via a high capacity electrical blower fan. The speed of this fan was being controlled by a manual adjustment to set and hold the pressure at a constant value, however whilst this was fine for proof of concept, it was not very practical.Pufferfish had been approached by the stage production crew for the Coldplay Vivi La Vida Tour to supply 6 PufferSpheres® for the stage show. With only a few weeks to deliver, this inflation control problem was now a major issue.

Pufferfish called in Wilkie Electronics to solve the problem. After a couple of days we had established the dynamics and limits of what a self contained "inflation controller" would need to supply in order to inflate the sphere as quickly as possible and hold it at a constant pressure for the duration of its use.  

Within days Wilkie Electronics produced a prototype inflation controller that measures the pressure in the sphere and directly controls the speed of the blower to maintain a preset value to within 1mBar of the required pressure. The unit is microprocessor controlled and all the circuit design, PCB layout, microprocessor firmware, product build and test all carried out exclusively by Wilkie Electronics. 

The unit inflates the sphere quickly under full power from the blower and then constantly regulates the pressure inside the sphere at a preset value, usually around 6 mBar. This also means the projection focus is always optimal, the pressure is at a safe level, and the blower fan noise is kept very low.

After about 10 days Wilkie Electronics built and supplied 6 inflation controllers that were fitted to the Coldplay units that performed as well as Coldplay did on the tour!  

The PufferSpheres® were a fantastic success for Coldplay, so much so that Pufferfish were approached by one of the production teams for the 2009 Eurovision Song Contest.

Again, Wilkie Electronics built and supplied inflation controllers to be fitted to units that would end up being seen by the whole world.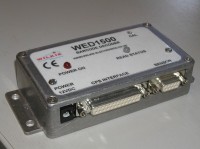 WED1500 High Speed Barcode Reader
High Speed Barcode Decoder
The Royal Bank of Scotland Coin and Cash Centre in Edinburgh use large complicated machinery to detect, sort and stack new and used notes of all denominations. This equipment is maintained by their own on-site engineers.
Some machines use a barcode reader to read information from cards strategically placed within the bundles of notes to be sorted. RBS had an immediate requirement to have this barcode facility fitted to all its machines, but this add-on was obsolete and no longer available. RBS contacted Wilkie Electronics to look at the problem, with a 6 week deadline to get the problem resolved.
Wilkie Electronics set about the task of designing a retrofit solution, which turned out to be an extremely involved and technical high-speed barcode detector and decoder system.
Barcode readers these days tend to have reader moving (by way of a rotating mirror drawing a "scan line") over a near stationary barcode. This project required the exact opposite, the barcode reader would be a fixed point and the barcode would travel past it at a speed of 256 inches per second. Also, the system had to interface with the original equipment and there was literally no documentation on any aspect of all this.
After 2 weeks, Wilkie Electronics had built a prototype unit for testing. This prototype included an embedded microprocessor and bespoke firmware. The trials of the prototype were so successful, RBS decided not only to add the system to the machines that required them, but also to remove any existing old readers and replace them with the new system.
Wilkie Electronics completed the development work, designed and built the product printed circuit boards, packaged the unit and had it CE marked ready for RBS to install within a matter of weeks.
The finished product "WED1500 Barcode Decoder" has been designed to be used as a header/trailer card barcode reader on CPS High Speed Bank Note Sorter type CPS1200/1500/1800/2000.

The final unit is capable of reading the moving barcodes at speeds from 112 inches/sec to over 800 inches/sec, that's equivalent to 45 miles/hour!
The decoder unit measures 115mm x 65mm x 30mm and weighs less than 200g - a fraction of the size of the original unit. It is of rugged construction due to the type of host equipment to which it is fitted.
This is an example of one of our own products, which due to a particular need in a particular and lucrative market, we have used our own time and money to develop and produce a remarkable unit to be sold directly by Wilkie Electronics.
Palmreader Mother Board
Palmreader Biometric Recognition Unit
Yarg Biometrics in conjunction with Fujitsu developed the Palmreader Biometric Recognition System.
Wilkie Electronics was involved in the electronic hardware and printed circuit board design of the main motherboard of this unit.
The user simply placed the palm of their hand on the unit and the system would read the unique vein pattern of the hand situated directly below the epidermis. This pattern is every bit as unique as a fingerprint and stays the same throughout life. The advantages of such a system include facts such as it is not affected by physical damage to the skin (unlike fingerprints), it is non-contact and therefore hygienic, and of course was less sensitive in terms of human rights issues.
The product drew media attention and also made it onto the TV's Reporting Scotland News.