All our latest news
LATEST MAJOR PCB LAYOUT COMPLETED
Board comprised of 8 layers and approximately 1000 components with various placement restrictions. Completed in just over 3 weeks.
All our boards are routed manually to produce the best layouts in terms of signal integrity, power distribution, signal speed, manufacturability, circuit compactness and of course operation.
ELECTRONIC REPAIR SERVICE IS NOW CLOSED 
We have decided to close our electronic repair services. 
As Wilkie Electronics moves into a new era we have decided to concentrate our time solely on PCB Design and our Research and Development operations which were always the core strengths of the business.
Therefore please do not send any items for repair, however should you have a repair problem you can still call and we can discuss and offer help if possible.
Thanks to all our customers who have used this service in the past.
Now running V24 the very latest version of EasyPC.
We are now running the latest up to date version of our PCB layout Tool EasyPC Version 24 supported by Number Systems.
This is our commitment to provide our customers with the very latest technologies available.
Check the new version out at Number One Systems
Automated PCB Assembly
Every wondered how a PCB gets assembled with all the various components ? Well here's a great video explaining how this is done in a plant in China.

RS DESIGNSPARK PCB PRO AND EASYPC ARE NOW COMPATIBLE  

Some may know that RS's Designspark PCB layout tool was originally derived from the excellent Numberone Systems EasyPC product.
However licencing constraints meant the the two were not interchangeable.
This has now changed with the launch of Designspark PCB PRO which means design files generated in either of these tools can be now opened and edited in the other. 
These tools can also read files from the free version of Designspark, however in this instance the free version cannot open files created by these.
This means we can now offer design files in either EasyPC or Designspark PCB PRO formats when fulfilling your PCB project design requirements.
Free Simulator Software 
Looking for simulator ? Well here's Micro Cap .... a $4500 fully featured simulator for FREE !
Apparently Spectrum Software have closed their doors after 39 years and have made their software free to all !
I've had a wee look at this and found it to be very powerful and easy to use, so if it interests you at all you can download here.
Watch out for scam component distributors in China
Finding components is hard enough these days and it's pretty easy to get drawn in by very elaborate Chinese websites that show stock and keen prices. However never entertain them if the insist on wire transfer of funds. There is a high risk that once you have sent your money you'll never hear from them again and you will receive no goods.
Here is a link to the ERAI site that lists a lot of these sites and the bank account names they use. Worth a quick check before you buy !
Check out this list of scam sites.
We always stay right up to date with our software tools. This ensures the best performance and support.
Ever wondered how a PCB is made ?
Well have a look at the video below from the giant JLC plant in China.
HY-PAC HYDROSTATIC PRESSURE AUTOMATIC CUT-OFF
Very pleased to have been involved in the complete design/firmware/PCB development for OCTOPUS TEST SYSTEMS for their HY-PAC (Hydrostatic Pressure Automatic Cut-off).
The HY-PAC (Hydrostatic Pressure Automatic Cut-off) provides an overpressure control capability for hydrostatic test systems where multiple test pressures and hence over pressure settings are required. The system features a contact gauge fitted into the hydrostatic pressure circuit and a control box fitted into the low pressure hydro pump air supply and is powered by a standard mains supply. The contact gauge is set to the desired over pressure by moving the needle to the required pressure on the gauge scale, if during testing an over pressure situation occurs the contact gauge trips sending a signal to the control box which in turn closes the internal solenoid valve which isolates the air supply to the hydropump and hence stops the hydrostatic pressure from increasing any further. Upon closing the solenoid valve the internal timer also begins and after 30 seconds a buzzer activates indicating to the operator that hydrostatic pressure can now be removed manually. If during this 30 second hold period the hydrostatic pressure drops such that the contact on the gauge is released the 'fault' LED illuminates indicating that the system under pressure is not able to hold a hydrostatic pressure and would more than likely indicate a leakage. If during operations a power cut occurs the control box solenoid will immediately close which will stop the hydro pump hence 'failing safe'. Retro fitting HY-PAC into existing systems is relatively simple and in most cases the standard working gauge can be directly replaced with the HY-PAC contact gauge, the control box wall mounted and fitted in-between the LP air supply feeding the hydro pump. The contact gauge is then connected to the control box via a right angled plug and the power adapter (supplied) connected to a mains supply and the system is ready to go.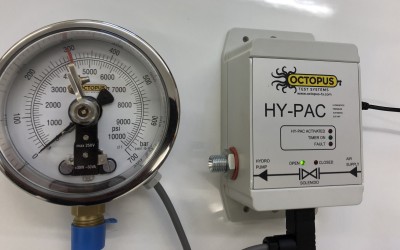 Octopus Test Systems HY-PAC Control Box